Recent Events
Video clips of recent musical events are housed on the In Spirit YouTube Channel.
Please SUBSCRIBE to the channel when you visit so you will be notified of newly-posted videos!
Peter Mayer Visit a Treat
We hosted a concert with Minnesota singer-songwriter Peter Mayer on July 20, 2019. He also performed at Unity Church of Delaware on the following Sunday.
Christy Snow March 30, 2019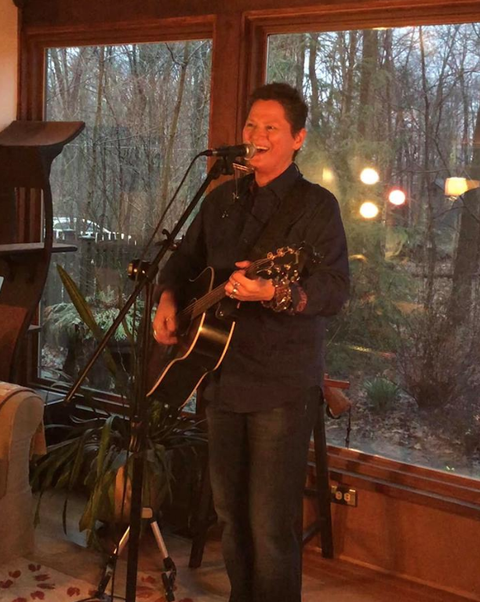 Dec. 21 2018- Karl Anthony's Laser Light Winter Solstice Concert
Here is a song from our Winter Solstice celebration featuring Karl Anthony. Cincinnati-based musician Jim Feist accompanied Karl on tabla.
Sep. 15 2018-Eddie Watkins, Jr.
June 2018-The Bead People
The last regular First Saturday Chant was a festival of peace and love with The Bead People. Thanks to all the "flower children" who joined us for this special evening, wrapping up more than 7 years of wonderful First Saturday Chant nights. Many thanks also to Videographer Extraordinaire, Michael Taggart, who created this extended video of the event.
May 2018- Christy Snow
Charlotte, North Carolina-based singer, songwriter, and minister Christy Snow was our special guest at the Chant in May.
April 2018-Harold Payne
Los Angeles-based singer-songwriter Harold Payne was our guest at the April chant. Harold is a multi-platinum and Posi award winning songwriter who has written songs for such diverse artists as Rod Steward, Patti Labelle, the Temptations, and long-time collaborator, Bobby Womack. We were blessed to have Harold join us for the weekend.
March 2018- RJ Cowdery
Feb. 2018-Tom Kimmel
The amazing singer-songwriter Tom Kimmel was our guest at the Feb. chant.
Since 1980 dozens of Tom's compositions have been recorded by a host of major artists, including Linda Ronstadt, Johnny Cash, Joe Cocker, Art Garfunkel and Randy Travis. They've been featured in films from Twins to Serendipity and Runaway Bride, and in television shows from Captain Kangaroo and Touched By An Angel to Dawson's Creek.
An award-winning artist in his own right, he has released seven solo albums, published a book of poems and led songwriting workshops and classes around the country and in Europe.
Jan. 2018 - Jesse Powers & Chad       Warren
Jesse Powers and Chad Warren helped us kick off the new year right with a wonderful performance at the First Saturday Chant on Jan. 6th, and then a musical visit to Unity of Delaware on Jan. 7th.
Click below for a video clip of "I Am Creator," one of the songs they performed at the Chant:
December 2017-The In Spirit Band
The December Chant closed out our 7th year of the First Saturday Chant! The Unity Ukes made a special guest appearance. Thanks to all of you who have supported us through the years; we hope to see you all again in the New Year!
Nov. 2017-Jan Garrett & JD Martin
Jan Garrett and JD Martin were our special guests at the November Chant. This musical duo from Colorado has inspired positive music songwriters for quite some time, and their songs have won and been nominated for many awards in the Positive Music community.
September 2017 Eddie Watkins, Jr.
Motown legend and positive music guru Eddie Watkins, Jr. was our special guest at the chant in September. Eddie also performed at a house concert and at the Sunday service at Unity Church of Delaware. Thanks to Michael Taggart for this video, and thanks to Eddie for another memorable visit to the Columbus area.
August 2017 Chant Jesse Powers
Local sensation Jesse Powers joined us at the chant on August 5. Her energy helped us create a love-filled space that evening. Thanks to Michael Taggart for this video taste of the event.
July 2017 Chant With Karl Anthony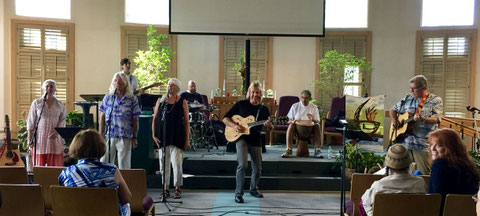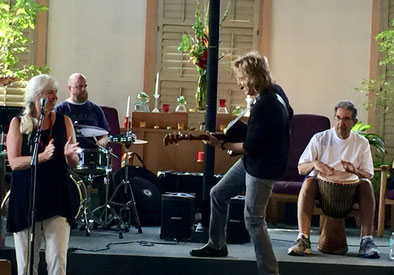 June 2017 Chant Karen Drucker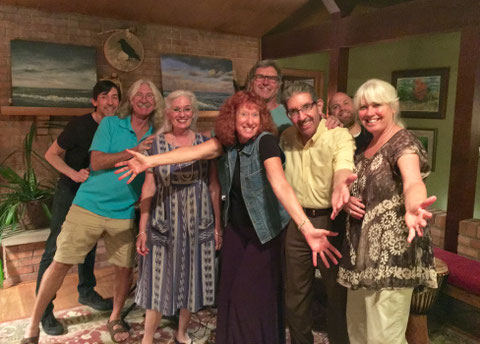 Karen Drucker with the In Spirit Band, June 2017.
Left to right: Steve Perakis, Ralph Leeseberg, Lynda McClanahan, Karen Drucker, Joe Lambert, Michael Kontras, Joe Nelson, Joanne Blum.
Photo credit:  Michelle Harcha
May 2017 Chant Robin Cummings
Talented local vocalist Robin Cummings was our guest at the
Chant in May.
March 2017 Chant Amy Steinberg
Our special guest at the March Chant was the dynamic Amy Steinberg. Amy is based in Charlotte, N.C. and dazzled us with a delicious blend of jazz, rock, hip hop, and poetry.
Feb. 2017 Chant with Karla Wright
Karla Wright was our special guest at the Feb. chant. The soulful Joel Knepp also joined the In Spirit Band on guitar and vocals. Video courtesy of Michael Taggart.
Jan. 2017 Chant with Kim Belew
Kim Belew, a "conscious rapper" from Cincinnati, joined us for the January Chant. Accompanying her was spoken word artist, Angelle Peace. Our thanks, as always, to Michael Taggart, for his videography.
Winter Solstice 2016-Karl Anthony
On Dec. 21 San Diego-based musician Karl Anthony presented a laser light mantra event, hosted by In Spirit Ministries. The laser light was stunning, the music heart-stirring, and the fellowship warm and cozy.  Thanks to Michael Taggart for this video clip.
Bead People House Concert Dec. 16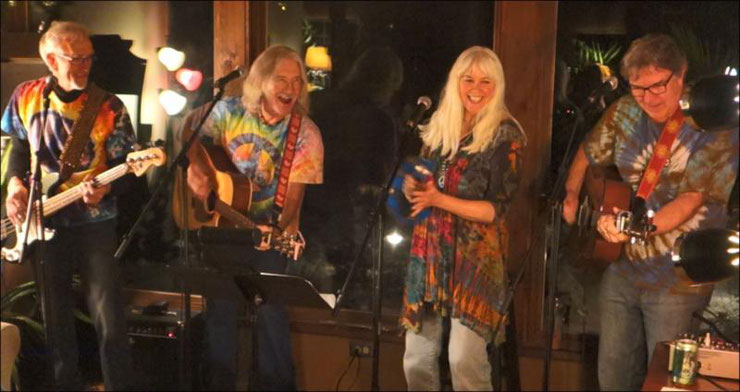 Thanks to all who attended the house concert featuring The Bead People this past weekend. A groovy time was had by all.
Our thanks to Michael Taggart for the photo above of the aging hippies in action! 
Dec.-Jesse Powers & Chad Warren
Video clip by Michael Taggart
October 2016 Eddie Watkins, Jr.
Thanks to Michael Taggart for putting this fabulous video together for us!
September 2016 With Jesse Powers
Aug.-Lisa Ferraro & Erika Luckett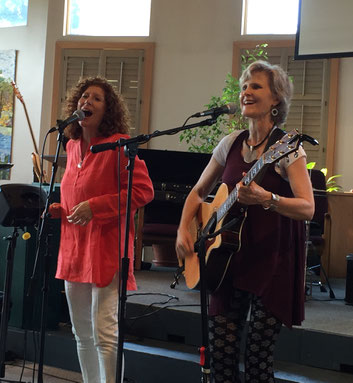 July With Karl Anthony
June 2016 With Robin Cummings
May 2016 With Jana Stanfield
March 2016 With Harold Payne
February 2016 With Eric Ahlteen
January 2016 Eddie Watkins, Jr.
December 2015 with Jesse Powers
November 2015 Chant  David Roth
October 2014 Chant With Karen Drucker
July 2014 Chant-Eddie Watkins, Jr.
June 2014 Chant with Chad Warren
May 2014 Chant Claudia Carawan
"SHINE" Chant (6 min. clip) with Claudia Carawan. Video by Michael Taggart.
April 2015 Chant
In case you missed the April chant, videographer Michael Taggart captured the fun and energy with this video clip. Local singer-songwriter Buzz Fawcett was our special guest. 
February 2015 Chant
Thanks to everyone who put on their love beads and came out to hear the Bead People at the February Chant. It was heart-warming to see so many folks with flowers in their hair!
Many thanks to videographer Michael Taggart for the delightful mini-concert in the clip above.  If you weren't able to join us in person, you can catch the spirit of the event in this well-crafted video that runs about 12 minutes.    
Also, if you'd like a CD of "Bead People Live at the Chant," a limited number are available at a cost of $8.00, which includes shipping.  To order, click HERE, or use the navigation bar at the top of the web page and select the In Spirit Store.
January 2015 Chant
Eddie Watkins, Jr. was with us at the First Saturday Chant in January to start the new year. This clip by Michael Taggart brings back the joy and energy of he brought to the event. The In Spirit Band always gets fired up with Eddie!
November 2014 Chant
Here is a clip of the chant in November with the dynamic, amazing LaJoyce Daniel-Cain. Thanks to Michael Taggart for making this clip.
October 2014 Chant
Jan Garrett and JD Martin were our special guests at the chant in October.  This clip created by Michael Taggart conveys a taste of this wonderful duo. The In Spirit Band was pleased to be able to perform with Jan and JD on some songs.
September 2014 Chant
Thanks to Michael Taggart for this clip of our September chant which focused on peace.
June 2014 Chant Eddie Watkins, Jr.